The Out Door
Jan 23
The Out Door on Youtube
All of The Out Door video interviews are on Youtube now, courtesy of Pitchfork TV. Check out our chats with Jason Urick, Eugene Chadbourne, Wrnlrd, and Foot Village here.
Dec 20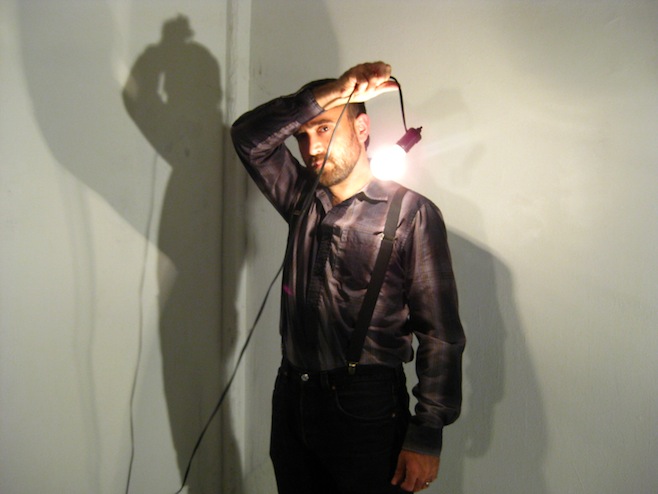 Our final edition of 2012 features Marc's profiles of his favorite labels of 2012— Spectrum Spools, PAN, and Experimedia. Plus Marc catches up with ex-Yellow Swan Gabriel Saloman (pictured above), and Grayson charts the journey of Nathan Bowles (Black Twig Pickers/Pelt) and premiers the new album by Cultus Sabbati. Check it out here. 
Best of 2012: The Big Four
[by Marc Masters]
If you follow men's professional tennis, you probably know that for a while now that sport has had a "Big Four"— four players who are clearly the best. In each of the past few years, one usually had a better season than the other three. But this year, you could make a convincing case for any of them, since each won one of the four major pro tournaments, aka "Grand Slams". 
I felt similarly about experimental releases in 2012. There were four that I kept coming back to, and at various points I thought each was the best album of the year. And they all felt like culminations of each artist's work so far— big events in their discographies, as their respective methods and ideas peaked, creating something more accomplished and awe-inspiring than anything they'd done before. I think of them as 2012's experimental Grand Slam champs.
Sep 10
New Out Door column with some interesting thoughts on duration, improvisation and black metal.

I find myself struggling with the idea of improvisation more and more these days, even as I get technically better at it. I first started doing it properly around this time last year as an attempt to break out of old,stifling habits which I'd built up over years that I felt were getting in the way of creation. These days, it's all about trying to find a balance between honouring the moment of creation and a developed editing ear, without relying on old ways of doing things. 

That links up with what Jason Lescaleet talks about in relation to making music with a purpose, not just sound for the sake of it. That's a very easy trap to fall into with generative, noise or ambient work which is mostly what I'm doing at the minute. It has to be more than aesthetically pleasing, has to do more than tick external boxes. Keeping the inspiration fresh is vital. 

How this all links to duration is another element to consider. Long-form drone is absolutely one of my favourite types of music to listen to but making it throws up all sorts of questions linked to the topics above. If its purpose is to be ignorable, how do I judge it? It requires a very different language than most musics and that's something I've been trying to get at both in making music and writing about it. Always on my mind as I set into reviewing another ambient or noise record that essentially - on the surface - sounds much the same as a hundred other ambient or noise records. Do you get into supposed inspirations, resurrecting the author in the process? Or do you get into personal feelings, the death knell of the academic? 

In short, this is a really good set of four articles, linked somewhere under the surface. Read it. 
Jul 27
Directions in Drone: Full Transcripts
For this month's edition of The Out Door, we explore directions in drone by asking four drone-based musicians three questions about what the word means to them. Here are their full answers.
What does "drone" mean to you, both in general as a listener, and 
specifically in terms of your own work? What about it appeals to you?
Drone, to me, is as specific a term as "indie", just a catch-all descriptor. With my work, I try to get into a place of deep listening; an immersive, glamored state where sound is suggestive, even if overblown and loud. Long tones help lay a foundation, but the details, the layers, are what attract me –  overtones and decay. 
One of my favorite things to work up is loops (I use pedals, no computers), and to just bathe in the sound. After I've played, I let them further crumble and fold into each other then let them run for half an hour and think over them, imagining further treatment. I've come to this from EARTH andUstad Zia Mohiuddin Dagar, MBV and Spectrum, Fripp & Eno, Work/Death and Eliane Radigue, for a few examples.
I love the freedom, the space, and the liminal, often ethereal quality of most "drone." It's often slow music, and like most noble rot, it takes some attention and patience to  truly enjoy and appreciate it; wine, beer, cheese, cured meats, pickled vegetables —  these take time as well and are infinitely more enjoyable than a Big Mac or Slurpee.